free course
Developer 101

Explore a career in software development with our free introductory class.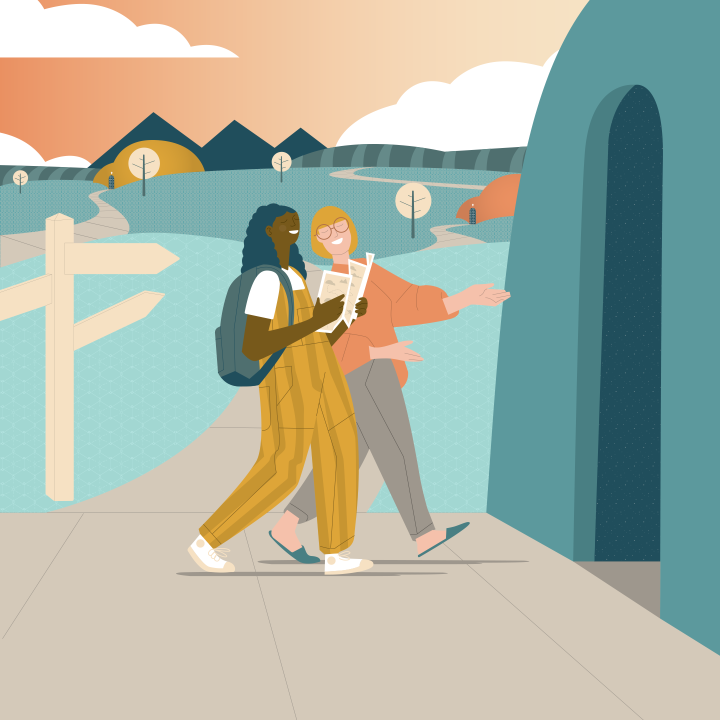 curriculum
What you'll learn

This is a series of lessons designed to introduce you to modern software development in a small group setting. You will get hands-on learning experience and real-time feedback.
Intro to Professional Software Development

Lesson 1
Almost every company uses technology as a part of their business, and they're all hiring! If you're considering a software career, learn what companies are really looking for: team-oriented problem solvers who can use the latest web-based technologies.
The Developer 101 series won't make you an expert, but it will explain what you need to get started in professional software development. In this first class, we'll discuss:
Managing and working with code
Using HTML, CSS, and JavaScript to create web applications
The difference between professional software engineering and hobby coding
Using tools like Zoom and Slack in an online, remote work environment
Manage Code Using GitHub, Git, & VSCode

Lesson 2
It's not enough to learn how to code. Developers need to know how to manage their code and code changes, as well as work collaboratively with others. This course will ensure you are up and running with the most widely used source control and integrated developer environment (IDE): GitHub and VSCode.
You'll learn how to:
Create new code repositories and copy template repositories on GitHub
Move code between cloud-based code repositories like GitHub and your local developer machine (and back again!)
Use VSCode to make code updates (commits) and feature branches
Make pull requests and share code collaboratively on GitHub
Applying HTML & CSS to Automatically Deployed Websites

Lesson 3
Learn why HTML and CSS matter in developing the content and style of websites and web apps, as well as modern workflows for automating live deployments as updates are made.
In this class you'll learn:
How to manage HTML & CSS in a web project
Basic rules for applying HTML & CSS
Inspecting and adjusting HTML & CSS in the Chrome Browser dev tools
Setting up workflows to deploy to GitHub pages and Netlify
Modern JavaScript in the Browser

Lesson 4
JavaScript makes the web work, controlling presentation and user interactions in the browser. While frameworks like React are helpful for creating web applications, they hide many of the basic details of how things work.
Using vanilla modern JavaScript, in this class you'll learn how to:
Integrate JavaScript modules into a VSCode web app project
Apply programming techniques to interact with the browser Document Object Model ("the DOM")
Create and update HTML elements
Setup and respond to user events in the Browser
Use the console in the Chrome browser to diagnosis errors and gather information
Testing JavaScript Functions

Lesson 5
Rigor and validating correctness are hallmarks that distinguish professional software engineering from hobby coding. Using automated testing and organizing code into functions are key techniques for the coding professional.
In this class, you'll be exposed to:
Writing automated tests using the qUnit test runner and assertion tools
How Test-Driven Development (TDD) not only proves correctness but helps promote simple, evolutionary design
Using JavaScript's module system to organize tested functions that can then be used in web applications
This class is taught live, just like our full program! Sign up for the next session.

dates
Upcoming Sessions

Don't see a session that works for you? You can still register now, and we'll let you know when we add future dates to the schedule.
evening series

August 1 - 11

This introduction class will meet five evenings across two weeks. You'll need to complete prework prior to the first meeting.

Monday, August 1, 6-7:30pm PST
Tuesday, August 2, 5:30-8pm
Thursday, August 4, 5:30-8pm
Tuesday, August 9, 5:30-8pm
Thursday, August 11, 5:30-8pm

If you are unable to attend all five classes, please get in touch with admissions to discuss options.
real time learning
Hands-on learning and real-time support

Learn modern software development in a supportive, small group setting. It's the best way to get hands-on learning experience and real-time feedback from our experienced instructors.


Individualized support from experienced software engineers


Small group setting to get all of your questions answered